| | | |
| --- | --- | --- |
| Berkshire | SOLID OAK | $75 per dose |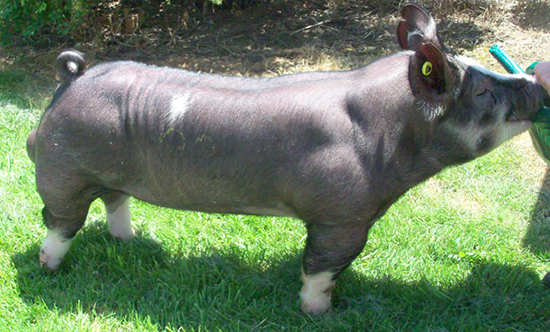 Grus Black Oak 10-9 x Justify 18-8
Bred By Alyvia Myers, IN
Owned with Pierce & O'Dell and Ryan Reeverts, Il.
2014 WPX Reserve Berkshire Boar! Solid Oak is powerfully constructed, stout, and very bold from end to end.
He is heavy muscled, square topped, and has a big hip and rump. He is opened up as wide as you can make one and
is still tall-fronted, level designed, and has a great hip and hind leg. He is as sound as you can
get. We really appreciate his stoutness of bone and foot size. Solid Oak walks away very wide,
square and true. His littermate sister was very popular on the IN Jr Swine Circuit winning many
times this summer. Solid Oak has the Pedigree, Look, and Build to make better Berkshires!